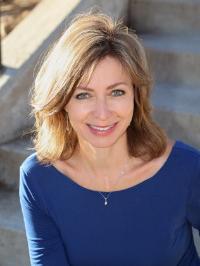 Hana Brown
Residential · Luxury · Relocation
Top producer for over 27 years
Brokers Guild Real Estate
Brokers Guild Real Estate
4601 DTC Boulevard, #300
Denver, Colorado 80237
Hana launched her real estate career in 1996. Since then, she has helped hundreds of clients to buy and sell homes; she is currently working as an Employing Broker and a mentor; and she is a big advocate of continuing education.
Her broad knowledge of the real estate industry, strong negotiating skills, attention to details combined with years of experience provide a solid foundation for your transaction to be smooth and successful.
Hana is a Denver resident with a passion for international issues, studied in Switzerland and worked previously in the international business industry; as an independent translator; and as a high school German language teacher.
Hana enjoys any sport, especially skiing, hiking, traveling, and she holds a private pilot's license. She is fluent in English, Czech, Slovak, German, and passive Russian. In her free time, she volunteers with a Nordic/Backcountry Ski Patrol and she likes to engage and give back to her community.
Highly likely to recommend
2012-10-17 - user775256
370 Detroit St UNIT A, Denver, CO 80206
I found Hana to be a very warm and engaging person to work with. She made me feel as if I were her only client, with my best interest at heart. Her knowledge of the area and all aspects of the process was quite impressive. If she didn't have all the answers at hand, she promptly found those answers for me.

I would highly recommend Hana as an agent. She was a delight to work with, and definitely helped make what can be a very stressful endeavor, much more pleasant!
Highly likely to recommend
2012-10-29 - user457012
8109 South Tamarac Street, Centennial, CO 80112
I worked with Hana over a 10 year period to both buy and sell my 1st and 2nd homes prior to moving out of state. Both deals were flawless and she was a fantastic asset. Hana is very knowledgeable about the areas of town, has the best interest of her client at heart, has a keen eye for the details, and is a amazing advisor in negotiations. Thanks to Hana I was able to buy homes I loved and lucky enough to turn a profit on both. If I move back to Colorado, Hana is the first call I'll make!
Highly likely to recommend
2018-11-07 - zuser20170806143630937
18 Pin Oak Dr, Littleton, CO 80127
Hana was great. Got our house sold in less than a day and it never went on the market! And we got our full asking price! She also helped with the contract so the different inspection dates lined up with the purchase of our new home.
Highly likely to recommend
2014-02-22 - aps44
8109 S. Tamarac St Centennial co 80112
My husband and I bought a house in 2009 that was listed by Hana. We did not use a buyer's agent because my husband is a lawyer and had previously sold 2 houses by owner. We appreciated working with Hana as the seller's agent. She was very helpful, knowledgeable and fair. She was very personable and easy to work with. Hana helped the process go very smoothly. We now highly recommend her to our friends and family.
Highly likely to recommend
2012-10-17 - user3639448
2549 South Lincoln Street, Denver, CO 80210
I was living in the Bay Area and searching for listings online. By happy accident, I emailed Hana regarding specific listings. I had planned to visit Denver before moving and Hana offered to show me properties at my convenience. It was clear she immediately understood what I wanted and respected my approach. After I moved here, we met regularly to view homes. I always felt secure in knowing that Hana understood what I wanted and looked out for my best interests, even if it meant not getting a sale.In the end, we found a wonderful home. Hana had great resources for my loan approval, insurance coverage, and home inspection, that combined as the perfect team. Above all, they worked to make sure I got exactly what I wanted. I have bought and sold homes on three prior occasions, in California, and here in Denver. I felt fortunate to have found a realtor who listened, knew what to do during negotiations, and someone I fully trusted from start to close.I highly recommend Hana for all your real estate needs.
Highly likely to recommend
2012-10-22 - user1332647
1588 S Clarkson St, Denver, CO 80210
I really enjoyed working with Hana Brown and she found me the PERFECT house! She was a good listener to what I wanted or did not want. She was able to put together a list of available properties that made sense. She was very knowledgable about the properties she showed. She was a good negociator and made the process very easy. She was a delight to work with and if I decide to sell my house, I will certainly ask for her help!
Highly likely to recommend
2014-01-10 - user3218071
2150 Routt Street, Lakewood, CO 80215
Hana sold us our house over ten years ago. We deeply appreciated her honesty and efficiency. We had at the time just sold our previous home ourselves, and Hana handled the paperwork for that sale for a reasonable fee. Because of our terrific experiences in working with Hana, we recently recommended her to our newly widowed sister-in-law who needed to sell a property. Hana outdid herself in terms of service, business sense and humanity. The house sold almost immediately for a higher price than we'd imagined--Hana had priced it right!
Highly likely to recommend
2016-08-22 - DougEppard
8572 Briar Brush Ln Colorado Springs, CO 80927
We met Hana through a listing and after that showing we knew we wanted Hana as our agent. She is knowledgeable and professional in every aspect. Moving from out of town, we made several visits veiwing homes throughout the I-25 corridor and settled in Colorado Springs. Throughout our building process she insured everything went smoothly leaving no stone unturned. Although she is extremely busy, her personable approach made us feel as if we were her only clients. We have purchased several homes and is far above and beyond any agent we have worked with.
Highly likely to recommend
2014-01-10 - user28385215
575 Moline St, Aurora, CO 80134
Hana is the best and I don't say that often. You really come to appreciate her if you have dealt with other realtors. I've bought more than one house with her (as well as sold) and she is always responsive which is so important when trying to get the house you want. She is always on top of things and communicates with you so you know what is going on. Hana really takes the time to make sure your best interests are protected. You rarely find a realtor as well rounded in her knowledge of all steps of the buying and selling process, as well as caring more about you than commissions.
Highly likely to recommend
2019-02-23 - michaelleesmith8
Highlands Ranch, CO 80130
Hana has represented me in six real estate transactions (three buy and three sell) over the past 18 years, as I progressed from young professional, just out of college, through becoming established in my career and starting a family, while moving to suit my changing lifestyle along the way.I have seen her grow from her own experiences over the past two decades, to a place where she is not only very knowledgeable, but extremely protective of her clients. She is good at communicating to other parties and their representatives, and fair and reasonable to all involved.She always thinks of things that I would never have thought to consider when both buying and selling, and provides invaluable advice on getting through these real estate transactions safely and with peace of mind. She is attentive to detail, which is incredibly important when dealing with legal contracts on high-value negotiations. She is patient, hard-working, highly responsive, and just the consummate professional.I don't know if I'll ever sell my current home or buy another, but if I do I will definitely plan to engage Hana to represent me again.